The following was received from Valerie Edwards: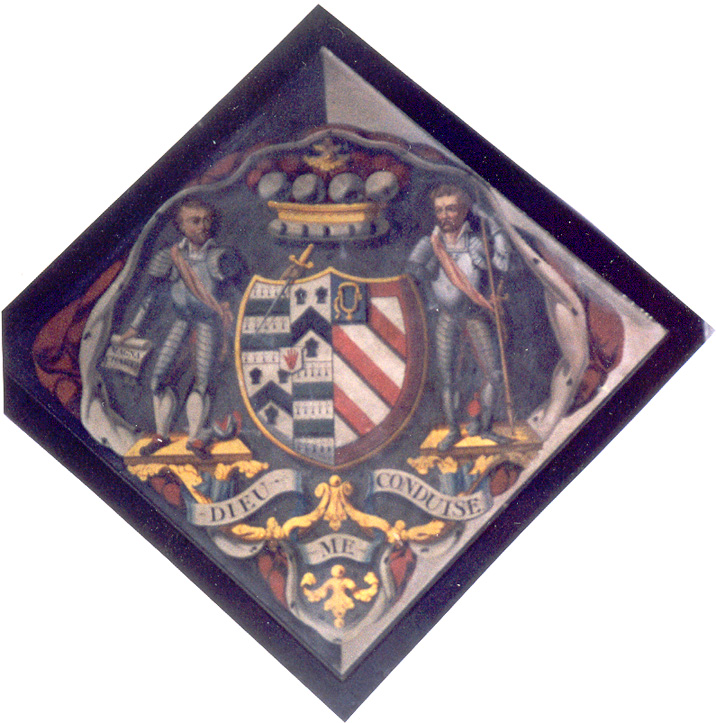 The following description  is the complete extract from "The Church of Our Lady" Parish of Delaval Church's booklet  produced by the Friends of the Church of Our Lady.
"Lord Delaval's arms are – Quartering 1st and 4th Delaval; 2nd and 3rd Blake, impaling the arms of his second wife (Miss Knight) – argent, a border gules three bends as second.  Canton vert with spur or.  The Baron's crown with the Delaval crest is placed above and the family motto below; the whole being surmounted the same as the hatchment of Sir Francis.  The sinister hand gules on argent to denote Baronet. (The Red hand of Ulster dates from 1611 when James I introduced a ploy to pay for the Irish Wars.  All knights were invited (!) to take a new order of "Baronet" and pay £1,000 for the privilege.)  It is worthy of note that this hatchment impales the arms of his second wife; all other arms of Lord Delaval (except this and that at Doddington in Lincolnshire) give those of his first wife."
The Norman church is all that remains of the 11th Century Castle close to the land on which now stands what remains of  Vanburgh's Seaton Delaval Hall (built between 1718-1728).  The church was built towards the end of the 11th century by Hubert de Laval nephew by marriage of William the Conqueror, who came from La Val in Normandy.
"The present Hall is a replacement for a Tudor-Jacobean manor house of which no trace now remains".   Admiral George Delaval commissioned the building of the Hall and it was finished by his nephew, Captain Francis Blake Delaval the latter being the father of Lord John Hussey Delaval. (2nd son).  When Admiral Delaval died, Francis Blake took the additional name of Delaval on inheriting the Hall.
Link:  Seaton Delaval Hall, An Introduction
Valerie states: "the text [of this website was]  written by Martin Green.  Martin has also written a book about the Delavals entitled
The Delavals A Family History
published by Powdene Publicity Limited.  I had the pleasure of meeting him at Seaton Delaval last week."

---
Permissions in this forum:
You
cannot
reply to topics in this forum