I am posting this for Ellen Stoddart.  Ellen has been working on the line of descent of John Gregson of Murton.  Here she displays her results for the first five generations.  This document and a companion that traces the family line through generation 14 are found in the forum DOCUMENTS::MEMBER WORKING DOCUMENTS.
Last edited by drfalken on Mon Jan 16, 2017 2:17 pm; edited 2 times in total
Today, I looked carefully at the link to Sir Bernard Burke's 'Genealogical and Heraldic History of the Landed Gentry of Great Britain (posted link by Don Frankenburg) and reaffirmed for myself who was who in the first, second and third generations of Gregsons of Murton. Burke's book was published in 1858 and hence I guess he would have had to have his history confirmed by the Gregson who was alive in Murton in 1858.

Burke loosely describes the early lineage with no dates provided Eg "Anthony, father of John Gregson and Great Grandfather of John Gregson who purchased the estate of Lowlinn in N. Durham [John] who died 1779; So we know John Gregson who died 1779 purchased part of the land called Lowlinn. But for the dates of Anthony and his son we have to look elsewhere. Family Search (IGI) provides records for some English parishes but not all. Eg The archivist at Berwick upon Tweed when returning information to me regarding Thomas Geo. Gregson's birth date (of Tasmania) said this "You will not be able to find any entry for this on the web because the Kyloe registers are not indexed on the IGI (International Genealogical Index) ."

Early dates, therefore, are based on conjecture for those early Gregsons for unless we have some concrete information to support the dates how do we know if the people we have found on the IGI are actually the ones we are looking for. (Also we need to bear in mind that not all church records were accessed by IGI). Also between June 1657 and December 1664 some church records were not kept due to the Cromwell period. So ancestors dates of birth or death may not have been recorded.


A photograph of a plaque of burial dates of early Gregsons of Murton was kindly provided to me by a Brian Oliver of the Co. of Durham which hangs in the church of St Andrews in Dalton le Dale, Co Durham. I do not know when the plaque was made but guess it was provided by one of the Gregson descendants in the nineteenth century to illustrate the line from John who died 1607 to those who inherited the Murton estate. The details on the plaque are as follows:

John Gregson of Murton died 30 October 1607
Thomas Gregson of Murton died 1629
John Gregson of Murton buried 11 March 1674*
John Gregson buried 28 February 1713
Thomas Gregson of Murton buried 26 June 1713
John of Murton and Burdon buried 26 February 1742
John of Murton and Burdon died 20 February 1786
Rain of Murton and Burdon died 19 November 1807"

(NB a copy of the photograph of the plaque will be posted on the Forum)

Before I realised that both Richard Gregson AND Anthony Gregson had sons named John, I assigned the burial date of 1674 to John son of Anthony. Today, I too am of the opinion that the John mentioned on the plaque is the son of Richard and NOT of Anthony (generation II). Therefore, on Ellen's tree the date of death of Anthony's son John is redundant. I have no documentation to say when he died. Also the date of this John's birth is based on an IGI record which says John born 1587 "son of Anthony"). But that is all. Again I have taken a leap of faith.


Last edited by Val Edwards on Wed Jun 27, 2012 12:19 pm; edited 1 time in total (Reason for editing : typographical error)

Val Edwards




Posts

: 52


Join date

: 2012-06-09


Age

: 77


Location

: Hertfordshire, England



I do have a problem with the descendants shown for the above in Ellen's tree of the early Gregsons. If we are correct in thinking that the Rev. Richard Gregson was the long term incumbent of the church at Westcott Barton:

www.british-history.ac.uk/report.aspx?compid=101854

Under Parishes - Westcott Barton A History of the County of Oxford: Volume 11 (pp. 75-81)

"The church at Westcott Barton, originally dedicated to St Edmund. It cites "Richard Gregson held the living for 56 years from 1584 to 1640"

While this seems a very likely candidate for our Rev. Richard, under Alumni Oxonienses 1500-1714: British History online. The only Richard Gregson I find listed is as follows:

... xii 212. Gregson, Richard, of Devon, pleb., and of St. Edmund Hall in or before 1572, BA 4 July 1576, MA 27 June 1579, rector of Westcot Barton, Oxon. See Foster's Index Eccl.

Possibly the Devon should read Durham. Who knows? But just say this is THE ONE. Until 1579, Richard was living in Oxfordshire. Then Ellen shows Richard to have had a son John born in Morton, Nr Bourne, Lincolnshire.

Q.How do we know Richard went to Morton Nr Bourne to marry and have children?
Q2 How do we know Richard then died in Wescott Barton?
Q3 While IGI does in fact give records of all the children shown born to John Gregson (seemingly son of Richard) are of Grasby, Lincoln. Those records simply say "Parent John Gregson". How, do we know that this John Gregson is the son of Richard, was baptised in Morton had childlren in Grasby and died in Dalton le Dale?



Val Edwards




Posts

: 52


Join date

: 2012-06-09


Age

: 77


Location

: Hertfordshire, England



This plaque hangs on the wall of St. Andrews Church, Dalton-Le_Dale, Co. Durham, England.
Last edited by drfalken on Mon Jan 16, 2017 2:17 pm; edited 1 time in total
Thanks to Valerie, we have the following photograph of another plaque she believes is from St. Andrews, Dalton-le-Dale.  This documents the Gregsons of a later era.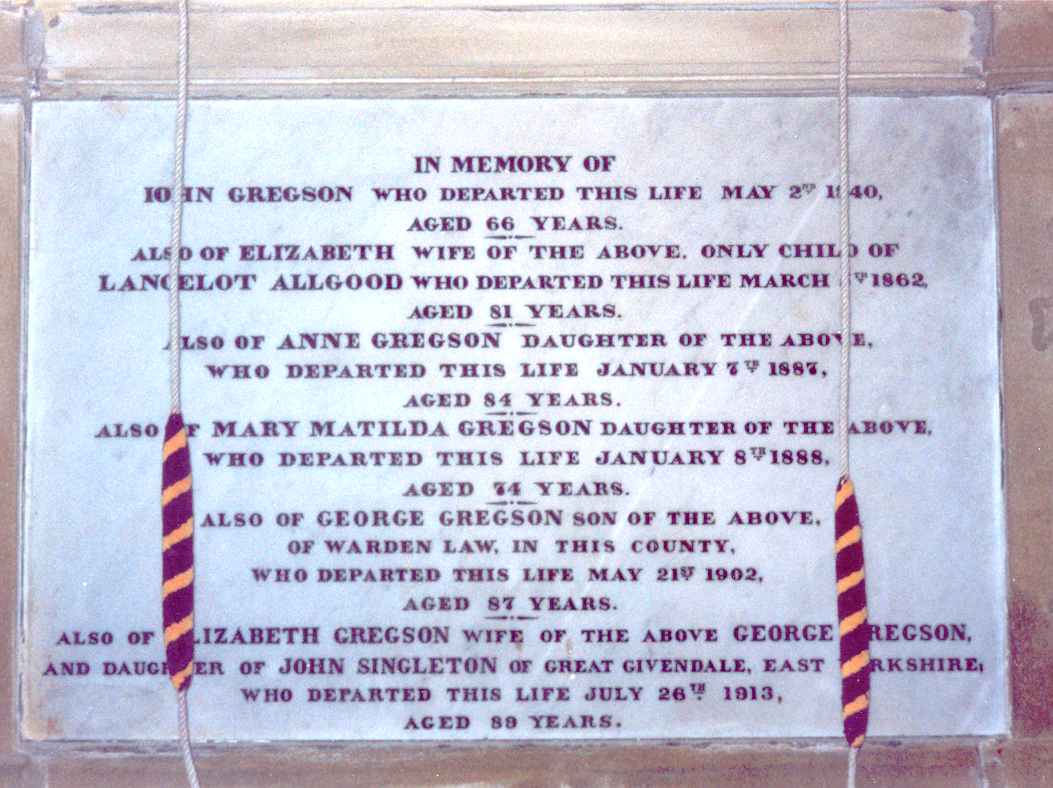 Similar topics
---
Permissions in this forum:
You
cannot
reply to topics in this forum