I am posting this for Tony Gregson
From an email from Tony
You will be amazed to discover that through a series of emails and some astute observation we have discovered Henry (Knight) Gregson's antique shot gun in a Yorkshire Gun Shop (turns out the owner is great mates with my mate in Yorkshire).  It is a very small world.  The end result is that I have bought the gun and over the next few months will try and get it back into Australia (Australia has extremely stringent gun laws!);  there are two attached photos, the leather case is particularly striking.   The Yorkshire Gun Room has now taken the gun off their "Antiques for sale" site which up till last week was there for all to see!
In another email Tony received detailed information that describes the firearm which was made by W R Pape. 
When I first saw the 'Pape' on the Yorkshire Gunroom Website I thought that it was a handsome looking gun, made by a 'good maker'  ( Pape of Newcastle has been referred to as the 'Purdey of the North') - and when I saw the name on the guncase, I searched on the internet for information about Henry Gregson - and I came across the article in the Northumberland Gazette which referred to you [Tony] and your cousin's visit to your ancestral home.
 
The shotgun is very interesting  - You can see the gun number on the photographs and from the Pape website, you can see that the gun was produced in 1888 or 1889.   [The Pape website ]  tells you quite a lot about Mr Gregson because the gun was made with features from an earlier time :   At the time of manufacture, hammerless guns were becoming popular -  Westley Richards patented the Anson and Deely boxlock design in 1875  - so at the time of his purchase, Mr Gregson could have commissioned a hammerless sidelock or boxlock gun   -  but instead he chose a hammer gun.  He also chose the (by then) old fasioned non-rebounding locks  -  The hammers are set first to half cock ( the safe position) and full cock just before firing -  just like the earlier muzzle loading percussion guns.  This suggests to me that Mr Gregson was a man used to using a muzzle loading gun and commissioned Mr Pape to make him a pair of guns as close to his muzzle loader as possible !
 
…having read the article in the Northumberland Gazette, I guessed that you may be interested in it and I first contacted the Northumberland Gazette for your contact information  - when they did not respond, I initially gave up  - but later I decided to search for Nikki Knewstub  - a very unusual name here  - and was successful.
 
The gun was one of a pair, apparently  - so there is, possibly, an identical gun out there somewhere !
Tony responded:
Thank you so much for all of your information.    You will be interested to know that I have now bought the gun – we Gregson's here in Australia are thrilled to be able to locate and now purchase my Great Great Grandfather's personal gun.  After some investigation of dates: given your dates below about when you think the gun was produced, I have now decided that the gun must have belonged not to my G G grandfather but to his son Henry Knight Gregson who was born in 1847; we are not descendants of this Henry but from a brother born in 1851.  The first Henry Gregson died in 1885.   Anyway it has sparked more interest and investigation so it is all good fun!
 
Very best regards and many thanks for starting this most interesting journey.
Photo of the leather case: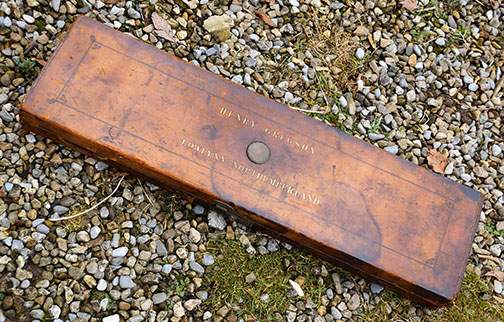 Photo of the shotgun: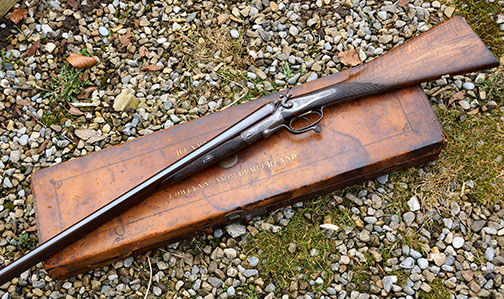 Last edited by drfalken on Sun Jan 15, 2017 3:15 pm; edited 1 time in total
An update from Tony:

I am doing a bit more detective work on the gun; I think
Peter Davies was wrong in his interpretation of the gun serial number and
hence the dates. The Yorkshire Gun Room have now confirmed the serial
number as 3661 which means that the gun was probably purchased around 1883
or 1884 (according to the Pape website) so I reckon that it was Henry Sr who
purchased the gun. I have being trying to reconcile how a mariner son
could a) have the money and b) the time etc to be able to play around with
guns on an estate well away from his vocation. Anyway i have emailed the
new owners of W R Pape to see if they can confirm who bought gun number 3661
and when.


Similar topics
---
Permissions in this forum:
You
cannot
reply to topics in this forum