Lilian Caley has forwarded this extensive pedigree that documents the paternal ancestry of Eliza Mary Donaldson Selby. According to Lilian, the document was "obtained from John KG, son of  William Clarence. This was compiled (I think) by Douglas KG in the 1970's."
The original source is: Raine, James,
The History and Antiquities of North Durham...
,J.B. Nichols and son (London, 1852) p. 228
I found the following reference to this, but no e-book is available.  
REF
The Pedigree is divided into two parts:
Part 1 traces the descendants of
Alexander de Cheswick
, Coroner of Norham and Islandshires in 1347 to two branches that later are united in the ancestry of Eliza Mary.  
Branch A terminates on Pedigree 1 with
Christopher Strangeways of Doxford
(after woods of Cheswick) who was buried 3 NOV 1734.
Branch B terminates on Pedigree 1 with
Thomas Donaldson of Ford
; ob. 15 MAY 1755.
In Part 2 of the pedigree,
Catherine Strangeways
(bap. 1 DEC 1716, daughter of Christoper Strangeways Branch A: Pedigree 1)
marries James Donaldson
(son of Thomas Donaldson: Branch B: Pedigree 1) This is the line that leads to Eliza Mary Donaldson Selby.
Part 1 Pedigree
Part 2 Pedigree
Last edited by drfalken on Sun Jan 15, 2017 12:49 pm; edited 2 times in total
Don't know if the above link will work, but it shows a coat of arms which may be related to the above families?
Link to coat of arms

Graham Paul




Posts

: 5


Join date

: 2013-11-23



May I suggest that this coat of arms was created by John Strangeways Donaldson when marrying Mary Dorothy Grey/Gray of Shoreston.    The left hand side is largely the Strangeways Donaldson shield (but not the hand).   If you look at part B of the Pedigree (link above)  John who married Mary  in 1823 was the first generation to be given the two names.  Although the heraldic shield of members of the Grey family is often displayed as bearing a blue ladder pattern, Mary Dorothy could trace her ancestry through her paternal and maternal lines back to John Grey of Scotland and Berwick (1225-1267) ) which I am suggesting may be the reason for the rampant lion of Scotland appearing on the right side.  The scalloped edge surrounding the lion accords with the illustrations of the Scottish Gray  coat of arms. The father of this 13th  century John Gray namely Hugh Gray, I have read, was termed the father of the Grays/Greys of Scotland and England.  (Preferences for different spellings were derived from a branch preference, to indicate a religious adherence or sometimes to show nationalistic allegiance.)

John Strangeways Donaldson was, for some time, Lord of the Manor of Holy Island and was also of Cheswick.   Perhaps this shield was from one of his family seats.

The hand on the left hand side puzzles me as I don't know of an Irish connection.

Under 'Gray' on the Home page of this Forum, the Pedigree of Kyloe shows the rampant lion on their coat of arms.  My post dated 12 October 2012 draws attention to a Thomas Grey (11th generation) on that pedigree where it is stated that he is ancestor to the Greys of Shoreston - Mary Dorothy Grey being the daughter of Robert Grey of Shoreston.
Last edited by Val Edwards on Sat Dec 14, 2013 12:04 pm; edited 1 time in total (Reason for editing : Additional paragraph)

Val Edwards




Posts

: 51


Join date

: 2012-06-09


Age

: 75


Location

: Hertfordshire, England



I agree with  Valerie regarding the coat of arms.  The following image is of a bookplate in the collection of the British Museum for John Strangeways Donaldson Selby.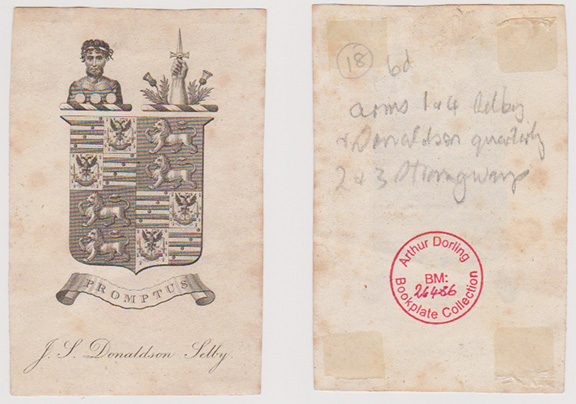 Documentation can be found at
http://cheshire-heraldry.org.uk/weblog/2012/10/30/bookplate-j-s-donaldson-selby/
The back of the bookplate indicates that the upper left quarter of the arms is that of Selby, while the upper right is attributed to Strangeways (not Donaldson).  On the bookplate there are two crests.  According to Burke, however, the arms are those of "Selby and Donaldson quarterly."  Burke indicates two Crests 1st Selby and 2nd Donaldson.
Burke's Genealogical and Heraldic History of the Landed Gentry, Volume 2
Burke also states that the Crest for Selby is a Saracen's head. (A Saracen was a term used in the medieval era for a Muslim).  I wonder if this is somehow connected to the Crusades?
Last edited by drfalken on Sun Jan 15, 2017 12:51 pm; edited 1 time in total
Cheers, that ties in exactly with my own conclusions when researching this coat of arms. Its nice to get confirmation from an independent source. I wonder if it was once at the earlier Cheswick House, which was pulled down in the 1850s?


Graham Paul




Posts

: 5


Join date

: 2013-11-23



---
Permissions in this forum:
You
cannot
reply to topics in this forum